Get High-Quality Ford Service in Muenster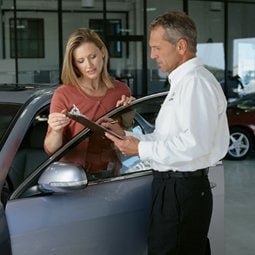 Making sure your vehicle gets the best care possible goes a long way. With routine auto service at Klement Ford of Muenster, you can be assured your Ford keeps its quality high and lasts for years to come. You can count on us to perform the right service needed with our level of expertise to maintain F-150, Escape, Explorer, Bronco Sport, and Ranger and keep you confident and on the road.
Klement Ford of Muenster is Here for Your Maintenance and Repair Needs
All cars need a little routine maintenance now and then to keep everything running smoothly. Oil changes, tire rotations, filter changes, and other basic services work together to help your Ford model perform at its best, and it reduces the risk of running into bigger car problems further down the line. Whether your car needs some basic maintenance or some in-depth repairs, you can count on our service center in Muenster to get the job done and help you get the most out of your ride.
Schedule Ford Service in Muenster Today
If you know what your vehicle needs and just need to schedule an appointment, you can do so easily online. We'll confirm your appointment, then all you have to do is show up and relax in our waiting area knowing that your car is receiving the care it deserves. If you have any questions about servicing your car or aren't sure what maintenance is required next, reach out to us with any questions.